Hello Humans!
I've been craving a reasonably sweet treat these past few weeks and I didn't really know what it was until I made these out of desperation.
I'd been actively pinning multiple recipes on Pinterest few the past few weeks and eventually my cravings got the better of me. I rolled my trolley down the aisle, dropping in it, everything I could find. This all started over Easter weekend, when I stupidly bought a baking tray before thinking about what it was I going to bake. All I had was flour and a few eggs…
I must admit, I've been put off baking anything, let alone cookies, for a good few years now. Mostly because I love to improvise when cooking. I love throwing a dash of this and a sprinkle of that, add to taste and voila! Something home-cooked and nothing else like it out there. I find that cooking is a feeling, whereas baking is a science. Put too much flour in it and it'll just be a puffball. Put too much salt, it'll taste like play-dough. Put it in the oven for a second longer than expected, it's a flop!
I just keep thinking that Gordon Ramsay is hiding in my cupboard… Waiting for an opportunity to yell at my questionable baking skills: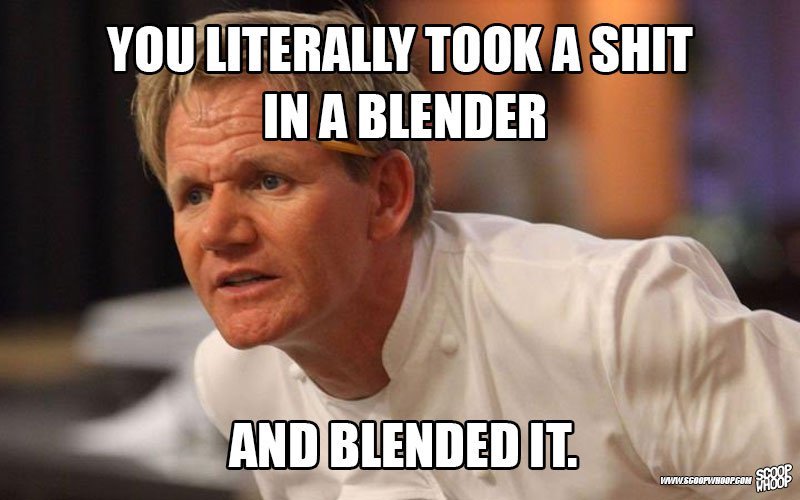 I. CAN'T. DEAL. WITH. THE. HEAT. IN. MY. OWN. KITCHEN!
So, dear reader, I've put all the anxiety of perfect baking behind me decided to embrace my kitchen improvisation to the fullest (Maybe not the fullest, because then everything I bake would turn to stone). It's more like 1/4 cup of free to be different.
CHEWY TOP DECK PEANUT BUTTER COOKIES:
24 – 30 COOKIES
PREP: 15 MIN
OVEN: 8-10 MIN
TOTAL COOKING TIME: 25 – 30MIN
INGREDIENTS:
1 Cup Peanut Butter (I used extra creamy)
1/2 Cup Softened Butter
1/2 Cup Granulated Sugar
1/2 Cup Brown Sugar
1 Large Egg
1 Tbsp Vanilla Extract
1+1/2 Cups All-Purpose Flour
1 Tsp Bi-carbonated Soda
1/4 Tsp Salt
1 Large Slab of Top Deck
INSTRUCTIONS:
Preheat the oven to 175°C
Use spray & cook to grease your pan, place your baking sheet over your pan and grease again (making your life easier here, you're welcome)
In a mixing bowl, place your peanut butter, granulated sugar and brown sugar together. As Michael Jackson once said, "Beat it!" until smooth
Then crack open your egg, and pour in the vanilla extract into your peanut batter (see what I did there?)
In a smaller mixing bowl, siv your flour, bicarb soda and salt then whisk it away. When you're done playing romantic with your flour, marry it with your peanut batter and mix until smooth/creamy
Now, you get to sort of get your hands dirty. Unless you have already. In that case, I love a little rebel… Take enough batter to roll into 2cm balls and then place on your baking tray. Place dough balls 5cm a part.
Once you've placed all the balls on your tray, take a fork and gently smash each ball (I don't entirely know why all peanut butter cookies are fork smashed to be honest. If for nothing else, do it for the aesthetic. A hipster cookie)
Once each ball is smashed, break a block of chocolate and place on top of each cookie. You could use any chocolate, I just decided to have Top Deck. Tap tray on the counter 3-4 times to release the air-traps
Place in the oven for 8-10 minutes until golden on the edges
EAT. THEM. ALL!
Leave me a comment below to let me know if you made them or if you decided to innovate on them OR Tweet & Instagram by tagging me.